Victories for Glamour Girl, Viper and Gloed
2 December 2021
Horses sold in the Dutch Sport Horse Sales in the past have again achieved impressive results in recent times. Such as the absolute auction topper of 2021, Viper Z, jumped to the victory with his rider Martin Fuchs and Glamour Girl under Henrik von Eckermann have won the Grand Prix of Stockholm.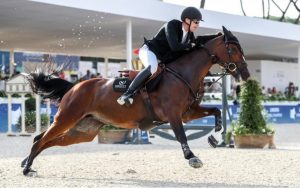 There seems to be no end to the remarkable results of Henrik von Eckermann and the Zirocco Blue VDL daughter Glamour Girl. After victories in the 1.50m class of CSI5*-GCT Rome (2x), the 1.50m class of CSI5*-GCT Samorin and the 1.60m class of CSI5*-W Lyon, they achieved their fifth victory in 2.5 months. At the four-star competition in Stockholm they again proved to be too good for the competition and so they were able to emerge as the winner in the 1.55m Grand Prix.
In Gorla Minore, Italy, Martin Fuchs made his international debut with the very talented Vigo d'Arsouilles son Viper Z, which he purchased last September in the Dutch Sport Horse Sales. They qualified in all three classes and won the 1.30/1.35m final on the last day. The Indoctro son Gloed, which was sold in the Dutch Sport Horse Sales as the reigning Dutch champion of the six-year-olds in 2017, also recently achieved a great victory. With rider Hillary Ridland, he won the 1.45m Jumper Series Final at the Las Vegas National show under the name Wonder Kid.