DSHS horses Gamble and Coronado leading in Calgary
11 September 2023
On the final day of the CSIO5* Spruce Meadows Masters, Conor Swail secured the victory in the 1.50m Enbridge Cup with Gamble, a Dutch Sport Horse Sales purchase in 2015. The DSHS's reputation was also upheld in the Rolex Grand Prix, as Coronado, ridden by Nayel Nassar, once again showed his comfort on the impressive grass arena in Calgary, earning them the sixth prize.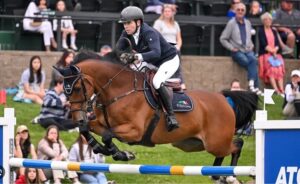 Only two combinations managed to stay completely clear in both the first round and the jump-off of the Enbridge Cup on Sunday. Conor Swail had already demonstrated earlier in the week that Irish riders were in excellent form in Calgary, and he and Gamble (by Vingino) clinched the victory. This marked their sixth (!) win in Calgary this year. In June, they won three 1.45m classes, and in July, they claimed the top prize twice at this level. This time, Conor and Gamble proved to be too strong for the competition at the CSIO5* 1.50m level as well.
The Spruce Meadows Masters concluded with the CPKC International Grand Prix presented by Rolex. In this 3 million Dollar 1.60m competition, Nayel Nassar achieved an impressive sixth place riding Coronado, a Holstein gelding auctioned in 2013 and sired by Cassini I, who was named the DSHS Horse of the Year in 2019. A noteworthy detail is that the winner, Leone Jei (by Baltic VDL) ridden by Martin Fuchs, was also discovered by Stal Hendrix at a young age.