Dutch Sport Horse Sales sets new average price record
27 September 2023
The six-year-old son of Cornet Obolensky, Mr. Cornike, was the highlight tonight during the 19th edition of the Dutch Sport Horse Sales. He was sold for a top price of €560,000 and is now in Canadian hands. It was a night of highlights in the broadest sense, with the average price being 25 percent higher than last year. There was significant interest from abroad in the 16 promising showjumping horses, including two reigning Dutch champions.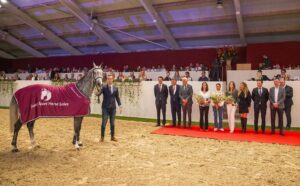 The atmosphere at the Peelbergen Equestrian Centre was vibrant. Both on sight and over the phone, foreign customers were particularly active in bidding. Out of the 16 horses, two remain in the Netherlands, while the others will be heading to destinations such as America, Canada, Great Britain, and Sweden.
Quality is well rewarded
Within the collection, quality clearly triumphed over quantity. Three horses were dropped from the lineup for various reasons in the weeks leading up to the auction, leaving 16 to be auctioned today. This did not prevent the collection from setting a new record. Four horses were sold for at least €360,000, led by the highly talented Mr.Cornike, who garnered a lot of attention during the Sunshine Tour last spring. He is heading to Canada for €560,000, fetching €100,000 more than the Dutch champion of the seven-year-olds: the high-quality Labelle ES (s.Mosito van Hellehof). This remarkable mare was purchased by Dutch buyers who will keep her for her current rider, Gaj Riossa. The talent and impressive results of Google des Forets (s.Armitages Boy) did not go unnoticed either, as this seven-year-old gelding was acquired for €470,000 by a German buyer. The scopey Lancer JDV (s.El Salvador) changed owners for €360,000 and is heading to Great Britain. The average price reached over €224,000, a significant increase compared to previous years.
Extremely satisfied
All in all, there is ample reason for great satisfaction among the Dutch Sport Horse Sales team. "Almost all the horses surpassed €100,000, which is in line with the quality of this carefully selected group of horses. We were able to welcome many foreign customers again tonight and look forward to see the further development of the horses. We had unwavering confidence in them from the start, and our expectations have been confirmed today", said Paul Hendrix.z
Picture by DigiShots