Quantum Robin V elected as DSHS Horse of the Year
27 September 2023
After an astounding Grand Prix victory at CSIO4* Prague, Quantum Robin V has demonstrated the ability to compete with the world's best combinations, making him a fantastic ambassador for the auction where he was sold in 2018. The potential he showed as a five-year-old has now translated into performances at the highest level, earning him the title of DSHS Horse of the Year.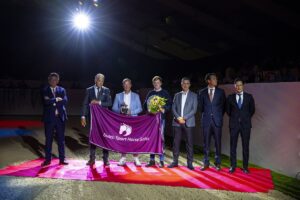 In 2013, the Carambole son was born in the stables of Jan Greve, who was named Dutch breeder of the year last summer. After receiving his initial training at his breeder's place, Iguest W continued his education at Stal Hendrix in early 2018.
In good hands
The gelding, later renamed Quantum Robin V, immediately impressed with his talent. That's why the Hendrix family selected him for the Dutch Sport Horse Sales in the same year. Russian Valeria Sokolova and the BWG Stables purchased him in the auction. This brought Quantum Robin V to the stable of the Schröder brothers in Tubbergen, where he has been ridden by Irish rider Matt Garrigan since early 2021. In August 2022, they made their debut in their first 1.50m Grand Prix, and they have already achieved 20 international top-ten results so far. Their provisional highlight came last July when they won the 1.55m Grand Prix in Prague. "Quantum Robin V was a very promising young showjumper when we had him, and he continued to develop well at the BWG Stables. Under the care of the Schröder brothers, he has been expertly trained and that has led already to remarkable results. For us as an auction, it's the ideal scenario when top talents find their way to the right place, and that is certainly the case with Quantum Robin V", said Paul Hendrix. On his track record are second places in events such as the 1.50m class in Poznan, the Nations Cup competition in Drammen, and the Grand Prix in Lanaken.
Honoring
During the 19th edition of the Dutch Sport Horse Sales, Quantum Robin V was celebrated as the DSHS Horse of the Year. He follows in the footsteps of horses like Glamour Girl, Hello Senator, and Chica B Z. An award created by the Limburg artist Jos Dirix was presented to Ben Schröder on behalf of BWG Stables and Quantum Robin V's rider, Matt Garrigan.