From top talent to Youngster of the Year: Oracle
27 September 2023
Exactly one year after being auctioned at Dutch Sport Horse Sales, the Kannan daughter Oracle has added a title to her list of accomplishments. Thanks to her consistent performances under Brian Feigus, she was honored tonight as the Youngster of the Year during the 19th edition of Dutch Sport Horse Sales.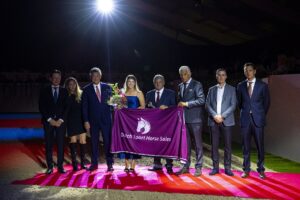 In the United States, the mare has already delivered remarkable performances. She won the seven-year-old class in Saugerties in early September and emerged victorious at the same competition at the end of August. Earlier this summer, Brian Feigus and Oracle claimed victory in two seven-year-old classes in Lexington. They also claimed a victory in Ocala last season.
Bright future
The Kannan daughter came into the hands of Stal Hendrix as a three-year-old and initially had a foal sired by Cape Coral RBF Z. Once under saddle, it quickly became evident that Oracle was a special talent. Last year, she was sold as a high-quality but still a bit green mare at the Dutch Sport Horse Sales. "Oracle has very good origins, and such a pedigree rarely disappoints. She is a half-sister to the Grand Prix stallion Whitaker, who participated in the World Equestrian Games, and is a typical offspring of the top sire Kannan. With her carefulness, scope, and mindset, a bright future awaits her", explained Paul Hendrix. "It's nice to see that she already stepped up during her first year in USA." Emil Spadone of Redfield Farm became a co-owner at last year's Dutch Sport Horse Sales, and this talented horse set off for America. During the 19th edition of Dutch Sport Horse Sales, Oracle was presented as DSHS Youngster of the Year, and Emil Spadone was involved in the celebration. An award created by the Limburg artist Jos Dirix was presented to him.