Dutch Sport Horse Sales offers future Grand Prix show jumpers
9 September 2019
On Tuesday the 24th of September, 25 carefully selected jumping talents will be auctioned in the 16th edition of the Dutch Sport Horse Sales. The high-quality collection includes several young horse competition winners and future Grand Prix show jumpers. Three of these top talents are Naomi van het Keizershof, I.Wellie R58 and Quickly van de Hagenhorst.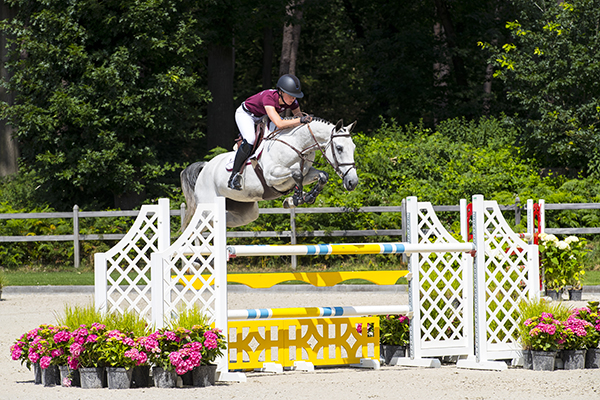 Emile, Paul, Timothy and Michel Hendrix, together with Yves Houtackers, once again succeeded in compiling a very special collection of four to seven year old jumping talents. They will be presented on Monday the 23th of September at Equestrian Center De Peelbergen in Kronenberg (NL), where they will be auctioned the day after. The trials are in full swing.
Naomi van het Keizershof
A horse with absolute potential for the highest classes is the six-year-old Cardento mare Naomi van het Keizershof (ds.For Pleasure). "This is a very special horse, of which we all have high expectations. She canters and jumps very lightly, and she has unlimited possibilities as a jumping horse", says selector Michel Hendrix enthusiastically. As a half-sister of the successful eight-year-old 1.45m show jumper Bonita van Keizershof (s.Bustique) of Ali Ramsey she has good origines too. Naomi's dam is, among others, a half-sister of Eric Lamaze's Grand Prix show jumper Firkov du Rouet (s.Baloubet du Rouet).
I.Wellie R58
One of the auction horses that puts himself in the spotlight at the Dutch championships for young horses is the Dexter R offspring I.Wellie R58 (ds.Mermus R). He finished second in the six-year-old championship and earned the coveted ticket for the World Championships in Lanaken. "The six-year-old I.Wellie R58 was discovered in the KWPN stallion approvals, where he was elected as vice champion. As a gelding, he has already built up a striking record in sport. He has a lot of quality and seems to have everything to become a top level show jumper", explains Timothy Hendrix.
Quickly van de Hagenhorst
The expectations concerning the four-year-old stallion Quickly van de Hagenhorst (Quickly de Kreisker x Caretano) are also high. "This impressive Holsteiner shows many similarities with his spectacularly jumping sire Quickly de Kreisker, who participated in several global championships. He excels himself with his scope, light-footedness and quality on the jump. Moreover, he is approved for the Zangersheide studbook", says Timothy. His enormous potential does not come as a surprise given his strong pedigree. For example, the dam of Quickly van de Hagenhorst is a half-sister of the international 1.55m show jumper C T (s.Casall) with which Hugo Simon achieved many great results. For the complete collection of the Dutch Sport Horse Sales please visit our website