DSHS horses on track at CSI2* De Peelbergen
8 April 2019
In the Youngster Tour at CSI2* De Peelbergen this weekend DSHS horses turned the heat up. In the class for five and six year olds, no less than four horses who were auctioned in the Dutch Sport Horse Sales, finished in the top five. Also in other classes DSHS horses claimed success, like Kamara van 't Heike as runner-up in the GP with Jack O'Donohue.
In the two-phase class for five and six year olds (1.15/1.25m) on Friday, four DSHS horses returned for the lap of honour. Patrick Lemmen showed the good form of the Numero Uno son Inostello M, auctioned in 2017, by ending up second. With that they referred Jack O'Donohue with the Elvis ter Putte mare Ikaberlina RV, auctioned last year, to the third place. Just one place higher than Tom Slattery, with his clear jumping Ici (s.Douglas) on the fourth place and Iris (s.Starpower) on the fifth. They are sold in our auction in De Peelbergen in 2018 and 2017 respectively. Patrick Lemmen and Inostello M were also successful on Saturday. With again a double clear result they jumped to the sixth prize in the 1.30m class for six year olds. Tom Slattery had already started good on Thursday by winning a third (Iris) and fourth (Ici) prize. Jack O'Donohue was also one of the prize winners in this Youngster Tour class riding Ikaberlina RV (seventh).
International advertisement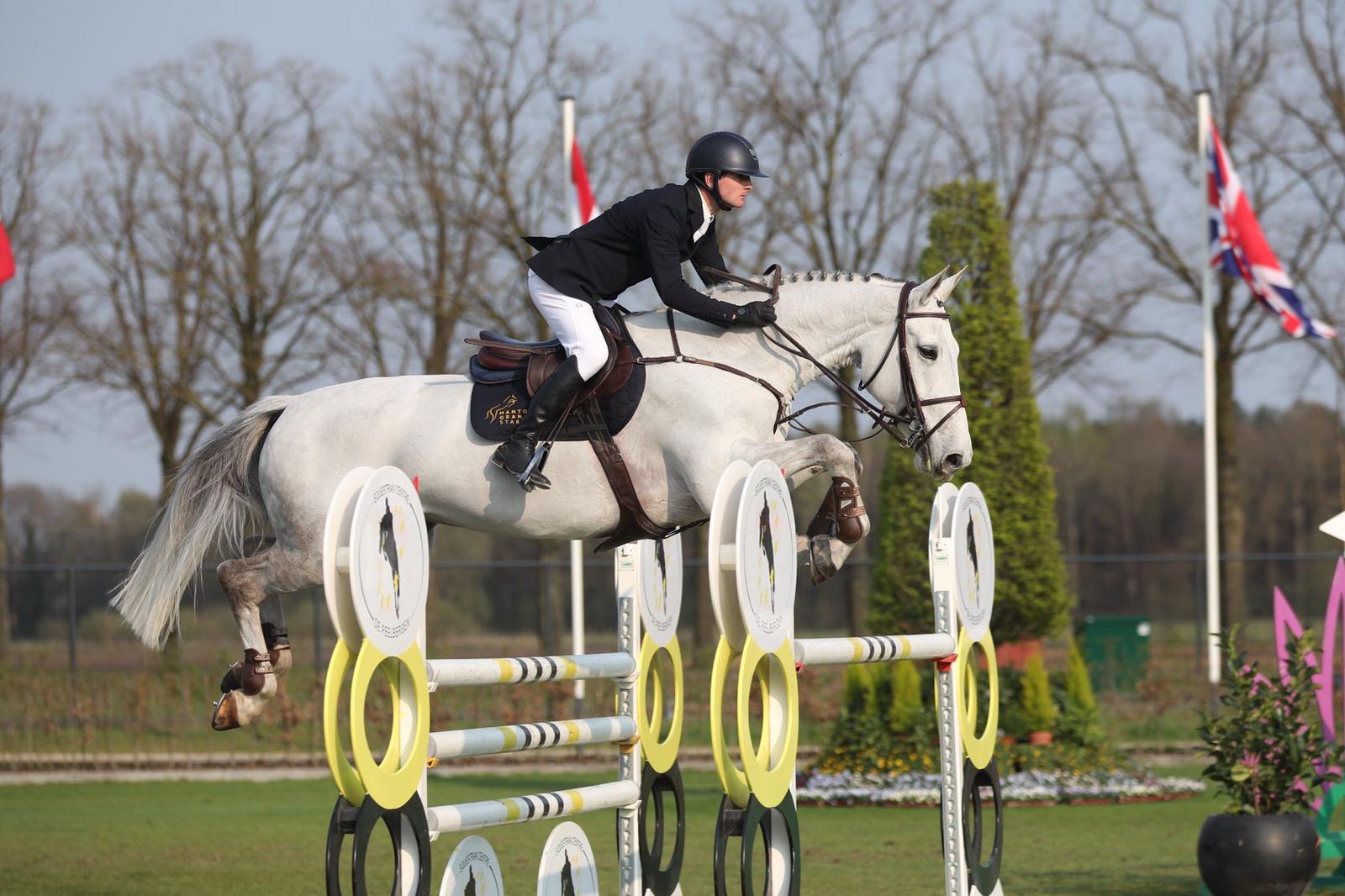 In the main class on Sunday, the 1.45m Grand Prix, Jack O'Donohue achieved a great result riding Kamara van 't Heike, who was purchased by his employer Manton Grange Stables at the DSHS in 2015. With this Epleaser van 't Heike mare he jumped two excellent clear rounds, which put them in second place behind Maikel van der Vleuten aboard the Bustique son Beauville Z. At this international show in Kronenberg, Michel Hendrix jumped double clear to the sixth place in the 1.40m class riding That's Me Z (s.Tyson) who was auctioned in 2017. Another good international results was claimed by the DSHS Horse of the Year 2017. In the first round of the World Cup Final in Gothenburg, Apart (s.Larino) jumped to the second place in this 1.60m class with Pieter Devos.