DSHS Horse of the Year title for Ici
28 September 2022
Last month the Douglas offspring Ici, who was sold four years ago in the Dutch Sport Horse Sales, made a promising 5* Grand Prix debut under top rider Ben Maher. After a successful period in the young horse classes and CSI2*/3* competitions, the gelding of the Manton Grange Stables has now reached the highest level. Tonight during the Dutch Sport Horse Sales auction, Ici has been featured as Horse of the Year 2022.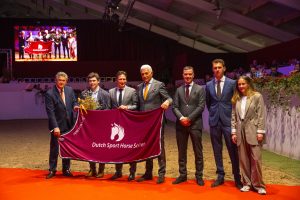 In 2018, the Douglas son Ici, bred by the Laumans family, was sold in the Dutch Sport Horse Sales. Five years earlier he was purchased by Stal Hendrix in the Limburg Foal Auction, after which he has been carefully reared and trained. After the sale in the Dutch Sport Horse Sales, Manton Grange rider Tom Slattery took place in the saddle, with whom Ici jumped his first international classes in 2019. The Douglas offspring achieved his first winning results under Jack O'Donohue and then he moved to Shane O'Meara's string of horses. With this rider Ici was performing up to the 1.45m level.
Top level
Since last summer, the DSHS ambassador has formed a promising combination with top rider Ben Maher. At the CSI5*-GCT Valkenswaard they already remained clear in the 1.55m class and they made their 1.60m debut at the same competition. The nine-year-old gelding seems to have a great future ahead. "Back in 2018, we were already very happy that we could offer such a good horse in our auction and that Ici has now ended up with Ben Maher is a great confirmation of the trust we have always had in him", tells Timothy hendrix. "He has now completed his first Global Champions Tour competitions and we expect to hear a lot more from him in the future." Ici was honored as Horse of the Year during the 18th edition of the Dutch Sport Horse Sales. He follows in the footsteps of horses like Glamour Girl, Hello Senator, Chica B Z and Apart. During the auction, an award made by the Limburg artist Jos Dirix was presented to the buyer of Ici, and these Manton Grange Stables were represented by Ici's former rider Shane O'Meara.
Photo: DigiShots