DSHS Horse of the Year 2021: Glamour Girl
30 September 2021
With already 17 international victories the Zirocco Blue VDL daughter Glamour Girl has developed into an amazing ambassador for the Dutch Sport Horse Sales. She recently won two 1.50m classes at the Global Champions Tour competition in Rome under Henrik von Eckermann. Her track record and potential were reason to choose this mare as the 2021 DSHS Horse of the Year!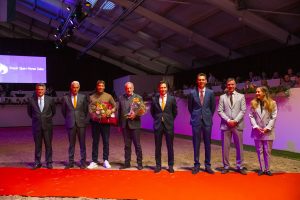 As a five-year-old, Glamour Girl (Zirocco Blue VDL x Caletto I, breeder Mieke Zoetelief), was purchased by Francois Mathy in the Dutch Sport Horse Sales. One year later she started her international sports career under the saddle of Senne Thomas, with whom she participated in the World Championships for six-year-olds in Lanaken. Charlotte Bettendorf then took over the reins of this competitive mare and the first successes soon followed.
Winning mood
In 2018, Glamour Girl finished fourth at the World Championships for seven-year-olds with this rider and she continued to achieve good results under Gaj Riossa and Richard Howley. Shortly after winning the three-star Grand Prix of Opglabbeek under Howley, the mare changed hands and started her amazing adventure under top rider Henrik von Eckermann, who is now based in Limburg. Out of the 17 victories already achieved, Glamour Girl delivered eight under this rider, including recently in 1.50m classes at five star competitions in Stockholm, Valkenswaard and twice in Rome. The duo also remained unbeatable in the 1.55m class of CSI5* Dinard and at the same competition they finished sixth in the Rolex Grand Prix. Being only ten years old, this Dutch bred mare has already a very respectable track record and we hope to witness many more sporting successes in the coming years.
Ceremony
Glamour Girl follows in the footsteps of Hello Senator, Coronado, Chica B Z, Apart and others. During the 17th edition of the Dutch Sport Horse Sales, an award made by the Limburg artist Jos Dirix was presented to the original buyer of Glamour Girl, Francois Mathy. His current rider Henrik von Eckermann and his partner Janika Sprunger, who rode Glamour Girl for a while herself, were also involved in the ceremony.