DSHS delivers two Grand Prix winners in Calgary
10 July 2023
In one weekend, two winners from the Dutch Sport Horse Sales have emerged: that outstanding result was achieved in Calgary. Nayal Nassar delivered an excellent performance by claiming the CSI5* 1.60m ATCO Queen Elizabeth II Cup title with Coronado (s.Cassini I), and the DSHS success was completed on Sunday with Conor Swail and Gamble (s.Vingino) taking top spot in the 2* Grand Prix.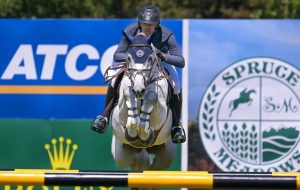 In the highly competitive ATCO Queen Elizabeth II Cup, endowed with one million dollars, 35 combinations competed for the top prize in this CSI5* Grand Prix held over two rounds. Only four of them remained clear in both courses designed by Santiago Varela, and Nayel Nassar achieved that remarkable feat with Coronado (s.Cassini I) in the fastest time. "This is just an unparelleled experience being able to show here, especially with the crowds that come in on the weekend. It really feels like Spruce Meadows come back to live after the global pandemic. It's just such a special place. It feels great to walk into the International Ring, the ambience is second to none", Nassar said afterwards. In 2019, Coronado was already elected as the DSHS Horse of the Year. As a four-year-old, he was part of the collection of the Dutch Sport Horse Sales and was acquired by the American Jacobs family at that time. The grey horse previously achieved great success with Francisco Pasquel, and since the beginning of last year, he has been owned by Evergate Stables and his current rider.
Winning mood
A day later, the Vingino son Gamble provided excellent publicity for the DSHS as well. Conor Swail and Gamble were the fastest among four clear combinations in the jump-off of the Lafarge Grand Prix (1.45m). He was auctioned at the Dutch Sport Horse Sales in 2015 and earlier this season, after a few months' break, he already secured two victories in San Juan Capistrano. Now, the Grand Prix victory in Calgary can be added to his track record.