22 top talents and established horses in DSHS collection
26 August 2021
The collection of the 17th edition of the Dutch Sport Horse Sales is now online. After a year of absence, the auction is coming back stronger than ever. A significant number of the horses have already achieved international results and the collection of 22 five-, six- and seven-year-olds is bursting with potential.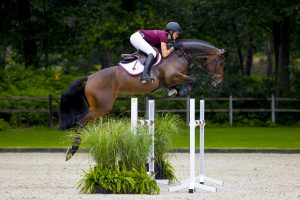 Due to all the Corona measures, the Dutch Sport Horse Sales could not take place in 2020. This year the auction is scheduled for September the 28th at Peelbergen Equestrian Centre, where the presentation will take place the day before.
Great performances
For the first time, no four-year-olds have been included in the collection and the focus has shifted to the somewhat older horses. Several seven-year-old top talents have already built up a respectable record in the international Youngster Tour and can progress to the 2* Grand Prix level next year, such as Oechie-K (s.I'm Special de Muze), Jeffrey Jarden (s.Bustique) and Viper Z (s.Vigo d'Arsouilles). In the Dutch young horse championships last month, horses like Kolivar (s.Colestus), Kavaliers Blue (s.Zirocco Blue VDL), Let's Fly (s.Fly) and Lusina (s.Cape Coral RBF Z) have already achieved remarkable results and they all are part of this striking collection. And what about the French mare Freya d'Ambel (s.Padock du Plesis), who became champion of France as a four-year-old. Click here for the 2021 collection.