Winner Silver Camera
26 January 2017
Published in DSHS Magazine 2016
Leanjo de Koster is a much sought-after photographer for renown events such as the CHIO in Aachen, the World Championships for Young Dressage Horses, Jumping Amsterdam and the Dutch Sport Horse Sales. This year he won the Silver Camera of 2015 with this picture called 'Wall of shadows' showing Dinja van Liere and Duval's Capri Sonne Jr.
The Zealander started in photography several years ago: "My girlfriend Monique loves horses and I love photography. One plus one is two; I started taking pictures of horses." He currently travels all over the world shooting the pictures at large events. He remembers very well the first time that he photographed the World Equestrian Games in Kentucky: "It was a dream come true.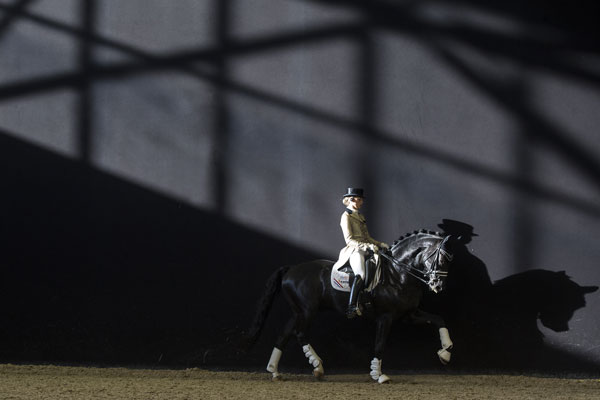 Since two years ago Monique also works for Digishots and they are away at least 40 weekends a year, taking beautiful pictures. He says: "According to friends we live a gypsy existence. Last Summer, for example, we were away from home for a whole month and travelled from event to event." Despite the fact that it can be quite hefty at times, they would no longer want it any other way. The photographer enjoys his work:"The events are very varied, that keeps it interesting."
One of the events for which Leanjo provides the photography is the Dutch Sport Horse Sales. "Working for the auction is fantastic. Everything is very well organised and it always runs smoothly. Both the photo shoot days as well as the auction days themselves. It is a very international auction and the décor is top. That makes it great to photograph and I very happily return each year.
Silver Camera
This year, for the first time, De Koster took part in a photo competition. And with success; he won the Silver Camera. Leanjo himself did not even want to enter the winning photo of Dinja van Liere and Capri Sonne but luckily Monique took this task upon herself. With hindsight, a stoke of luck for Leanjo who became the first Dutchman to win the award. Winning the Silver Camera was totally unexpected: "I found it a really cool photo but didn't know what the j
ury would think of it. "The prize-giving during theEuropean Championships in Aachen and the media attention afterwards made a big impression on the man from Yerseke: "I now understand very well
why top sportspeople receive media training." Winning the prize had a much greater impact than anticipated. It resulted in Digishots being awarded several large assignments. It did not only result in that: " I am currently working together with Kamera Express, the largest camera store in Holland. That partly came about as a result of winning the Silver Camera. These kind of developments are really accelerated by winning the prize."
Following the many positive reactions to the winning photo he is considering submitting the photo for the 'real' Silver Camera award of the Netherlands. His ambition does not stop there. One event that still remains on his wish list: the Olympic Games