Quantum Robin V lives up to expectations with Grand Prix victory
31 July 2023
Last week, a whole group of horses sold through the Dutch Sport Horse Sales performed successfully. The Carambole son Quantum Robin V, previously known as Iguest W, achieved a fantastic victory in the 4* Grand Prix of Prague. Additionally, references such as Naomi (s.Cardento), Viper Z (s.Vigo d'Arsouilles), and Icebreaker (s.Nabab de Rêve) also secured impressive wins.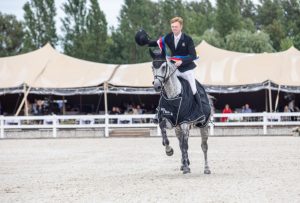 Matt Garrigan and Quantum Robin V (Carambole x Stakkato, bred by Jan Greve), were the only ones to remain double clear in the 1.55m Grand Prix of CSIO4* Prague. In the jump-off, they faced competition from four other participants but emerged victorious with their clear round, earning them the first prize. Quantum Robin V was auctioned under his studbook name in 2018.
Successful award winners
In Dinard, another magnificent victory was achieved by a horse sold at DSHS. Martin Fuchs rode Viper Z (s.Vigo d'Arsouilles), the DSHS Youngster of the Year in 2022 and a sensational top-selling horse in 2021, to an easy win in the 1.50m speed class at CSI3* in France. Jessica Springsteen had a successful outing with Naomi van het Keizershof (s.Cardento) at CSI2* in Valkenswaard. The mare, chosen as the DSHS Youngster of the Year in 2021 and a top-selling horse in 2019, has already built an impressive record. Last Saturday, they finished almost seven (!) seconds ahead of the competition in the 1.45m speed class.
Top prizes
The horse formerly known as Investment but now named Icebreaker (s.Nabab de Rêve) triumphed in the National Grand Prix in Petuluma. Ridden by Dakoda Mower, this talented showjumper, auctioned in 2018, left all competitors behind in the 1.40m class, which was endowed with $50,000. Additionally, it's worth mentioning that the Starpower mare Iris forms a prize-winning combination with 18-year-old Elsbeth Goltz from Manton Grange Stables. They won the 1.15m class at CSI1* Dinard. Previously, this in 2017 auctioned mare, achieved successful performances at the 1.40m level with Shane O'Meara.