Naomi van het Keizershof is the 2021 Youngster of the Year
30 September 2021
With her excellent victory in the prestigious Youngster Cup final in Aachen, the Cardento mare Naomi van het Keizershof has made great publicity for the Dutch Sport Horse Sales. This mare was auctioned in 2019 and is a promising future top showjumper under the saddle of Lorenzo de Luca. She is now elected as this year's DSHS Youngster of the Year.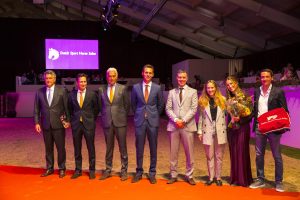 Two years ago, Naomi van het Keizershof was one of the favorites in the collection of the Dutch Sport Horse Sales and during the auction she turned out to be the highlight of the evening with a top price of 445,000 euros. This mare bred by Leon Otten came into the hands of Jessica Springsteen, with whom she has already achieved good international results.
Great future
Under Jessica Springsteen's partner Lorenzo de Luca, the Cardento daughter Naomi van het Keizershof recently experienced her greatest sporting success to date. At the memorable CHIO in Aachen, the mare jumped with a lot of quality to the victory in the Youngster Cup final. This was a very technical course at 1.45/1.50m level in which Lorenzo and Naomi stayed ahead of a very strong field of competitors. Two days earlier, the pair had already finished second in Aachen. The eight-year-old mare has a great future ahead of her and she can continue it from today crowned with the title DSHS Youngster of the Year. During the 17th edition of the Dutch Sport Horse Sales, an award made by the Limburg artist Jos Dirix was presented to Naomi's proud owners and riders Jessica Springsteen and Lorenzo de Luca.