Julie Welles in great form with DSHS horses
26 June 2017
American rider Julie Welles took off to CSI2* De Peelbergen with several DSHS horses last weekend, and not without success. She won the Youngster Tour aboard six-year-old Balade de Normandie (s.Diamant de Semilly).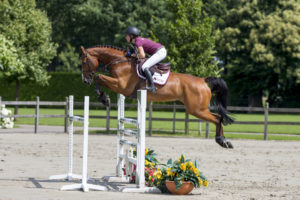 Balade de Normandie was one of the highlights of the DSHS collection last year. She was sold to Emma Heise, with whom she won already two international Young Horse classes in Chepstow last April. With her new rider Julie Welles the six-year-old quality mare Balade de Normandie was unbeatable in the Youngster Tour and won this 1.30/1.35m-class, with almost 80 competitors, at CSI2* Peelbergen.
3rd prize for Viper
Also with Viper Vrombautshoeve Z (s.Verdi), sold at the DSHS in 2013, Welles was among the prize winners at De Peelbergen. In the Medium Tour 1.40m class on Thursday, in which nearly 100 combinations competed, they reached the third place with a fast clear round.