Istinov and Escoffier winning international classes
30 March 2019
Several DSHS horses won prizes at the international competitions in Gorla Minore and Kronenberg this week. At CSI3* in Gorla Minore, both Istinov (s.Ustinov) with Omer Karaevli and Escoffier (s.Lord Z) with Michael G Duffy were taking the limelight by winning one or two classes.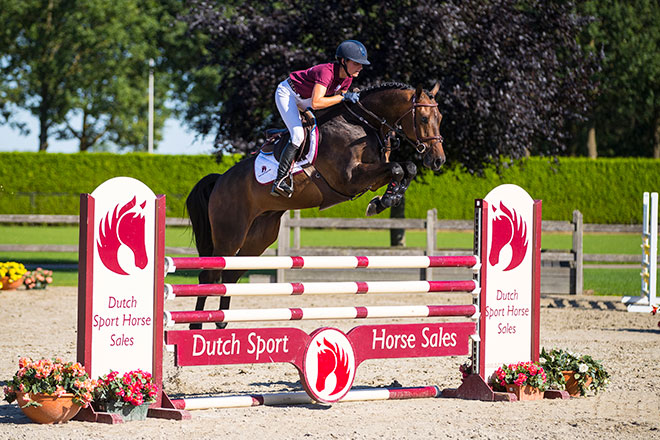 Omer Karaevli, riding for Carpe Diem, has been riding the in 2018 auctioned Istinov (Ustinov x Vegas, breeder Jean Dresen) for several months and has already achieved many good results. In Gorla Minore they started the week well with a fourth place in the six-year-old class, followed by the victory in the Youngster Tour the day after. Today the pair showed off for the third consecutive day and that resulted in the victory in the final for six-years-olds. At the same CSI3*, Michael Duffy won the 1.40m speed class riding another DSHS ambassador: the Lord Z son Escoffier, who was bred by Peter and Renate Stultiëns. Until the end of last year he was successfully ridden by Werner Muff, and with his new rider he was already placed in 1.45m classes at Jumping Amsterdam and CSI3* Neumünster. Escoffier was part of the DSHS collection in 2014.
Promising 7yo
At CSI2* De Peelbergen, Tom Slattery jumped a double clear round in the seven-years-old class (1.35m) aboard the Tangelo van de Zuuthoeve son Haufom and in that same class Jack O'Donohue and Harvard HX (s.Bustique) finished eighth. Both horses were sold to Manton Grange Stables at the Dutch Sport Horse Sales. Another nice result was achieved by the Cantos son Cas today, who was sold in 2013 to his previous rider Boy-Adrian van Gelderen. With Julia Swart in the saddle, he won the KNHS Indoor Championship in the 1.00m class.