Gamble and Belle du Courtil achieve good results in Canada
27 May 2019
After the eight-year-old Vingino son Gamble was successful in the Youngster Tour with owner Asta Torokvei, this gelding is now ridden by top rider Conor Swail. Last weekend this collaboration led to a victory in the 1.35/1.40m class at CSI3* Caledon. The equally old Belle du Courtil also made great advertisement for the Dutch Sport Horse Sales on Canadian grounds.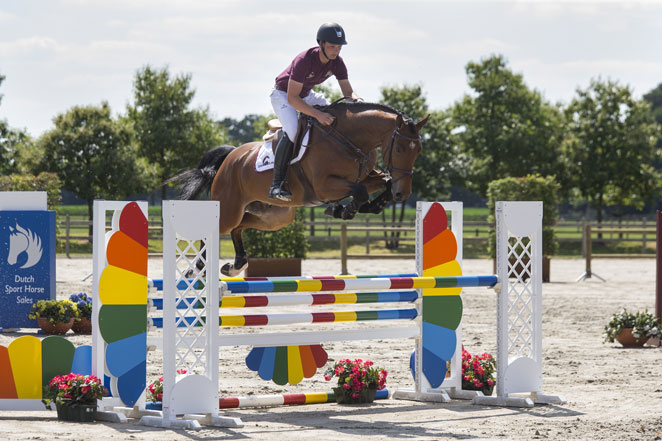 Under Asta Torokvei, Gamble (aka Gino, Vingino x Indoctro, breeder Roel Hagedoorn) achieved success in the Youngster Tour and is now ridden by top rider Conor Swail. At the three-star competition in Caledon-Canada, they claimed the victory in the $10.000 1.35/1.40m Jumper Stake. Two days earlier they had already won the third prize in the 1.35m class. In another place in Canada, at the Thunderbird Show Park in Langley, another reference from the DSHS auction made great advertising. Under Lauren Crooks, eight-year-old Belle du Courtil (Kannan x Luccianno, breeder Corinne Fossaert), who was auctioned in 2017, jumped to an excellent result. The promising duo reached the sixth place in the 1.50m Grand Prix.
Clear in 1.50m
Ten-year-old Zira van Kapelhof Z (Zürich x Quickfeuer van Koekshof, breeder Nicolai Gert) was sold during the Dutch Sport Horse Sales in 2013. Ridden by Anthony Condon he has built up a good record. Thanks to a clear round in the 1.50m class with accumulator at CSIO5* Rome, they could add a tenth prize on this level.