Flambeau and Haufóm performing well in Youngster Tour
29 May 2017
Two young talents from the DSHS collections of 2015 and 2016 were winning international prizes last weekend. The Carambole-offspring Flambeau won a 7-yo-class in Reims while Haufóm (s.Tangelo van de Zuuthoeve) claimed two prizes in Bonheiden.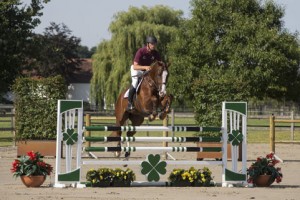 Flambeau was sold as a five-years-old to American rider Savannah Barry, with whom he is competing in the internationl Youngster Tour successfully. Earlier this month they were runner-up in the 1.30m class of CSIYH1* Lummen and last weekend they ended up on the -ex aequo- first place of the 7-yo-class in Reims.
Hurray for Haufóm
Ridden by Irish rider Tom Slattery the in 2016 sold Haufóm (s.Tangelo van de Zuuthoeve) is one of the best performing 5-yo horses. After no less than six (!) victories in the Youngster Tour of Bonheiden and Opglabbeek last month, they could add three more top-ten-placings to their record this weekend. Slattery and Haufom jumped a double clear on Thursday and Friday, what resulted in a second and sixth place.