€750,000 sold Viper Z tops exceptional edition of Dutch Sport Horse Sales
29 September 2021
An evening that can only be described with superlatives. That is in to what the record-breaking 17th edition of the Dutch Sport Horse Sales turned out tonight. Not only did the seven-year-old Viper Z secure an extremely high top price of €750,000, with which he leaves for the stable of Martin Fuchs, the average price of €196,000 also exceeds all expectations.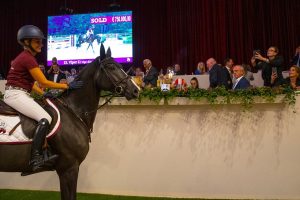 The selection committee of the Dutch Sport Horse Sales knew that they were dealing with an outstanding collection, but an auction is always a fascinating interplay of supply and demand. During the 17th edition of the Dutch Sport Horse Sales tonight at the Peelbergen Equestrian Centre it was proven that exceptional quality leads to exceptional prices.
Above expectations
It was an evening full of highlights. "This success is based on a combination of factors, and this evening really exceeded all our expectations", says Paul Hendrix immediately afterwards. "We have an international network of clients to be proud of, which we have built over the past 40 years. Our clients have great confidence in us and this is also underlined by a large number of successful horses sold by us. In addition, we auctioned an exceptional group of horses tonight, from which we will definitely hear a lot in the future." Great riders took their chance tonight at the Dutch Sport Horse Sales.
Great future
For example, Viper Z (s.Vigo d'Arsouilles) leaves for a top price of €750,000 to Martin Fuchs, the French champion mare Freya d'Ambel (s.Padock du Plesis) ends up with a student of Thomas Fuchs for €315,000, the scopey Zirocco Blue VDL daughter Kavaliers Blue continues her career with the Crooks family in the States for €365,000 and the athletic Jackson Paulowna (s.Numero Uno) is leaving to California for €285,000. Top rider Brian Moggre secured the ride of the high-quality Kallistos (s.El Salvador), which was sold for €195,000. "With this collection, we have selected closer to international sport than ever. The majority of the horses have already achieved very impressive results and they are ready for the next step. Moreover, with riders such as Pieter, Oda and Michel, we have fantastic riders at Stal Hendrix and they make sure all these horses are very well trained."
Charity
All records were broken today. In 2018 Immanuel R was the most expensive horse in the Dutch Sport Horse Sales ever with a price of €450,000, a record that was completely smashed tonight. As in previous years, the Dutch Sport Horse Sales will donate five percent of the proceeds from the most expensive sold horse to the Interplast Holland Foundation. This impressive amount of money was doubled on the spot tonight by Ivo and Ellen Campagne of Stoeterij Sterrehof, bringing it to an outstanding total of €75,000.
Photo by DigiShots