DSHS Youngster of the Year award for Chica B Z
26 September 2017
During the 14th edition of the Dutch Sport Horse Sales, the Youngster of the Year-award has been handed out to Chica B Z. Thanks to her remarkable achievements, this Canturano-mare of rider Martin Fuchs is chosen as most promising youngster. The eight-year-old mare was sold in the DSHS two years ago to Adolfo Juri, who was involved in the ceremony.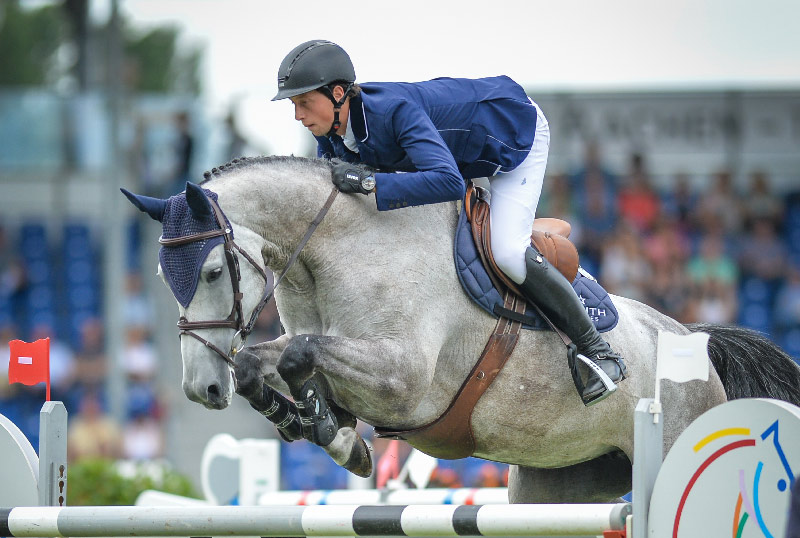 Many people found their way to the Equestrian Centre De Peelbergen, where the DSHS is held for the second year. Also the DSHS Youngster of the Year is choosen for the second time. Many sold horses have developed into true ambassadors for this auction.  Last year, Emma Augier de Moussac's Ultimo son Brighton Bay, was awarded Youngster of the Year. He is now followed by Chica B Z. This eight-year-old Canturano mare is one of Martin Fuchs' shooting stars and recently achieved a third prize in the 1.50m of CSI5* Lausanne. Other outstanding performances are a fourth prize in the Swiss Top 10 final in Sankt Moritz, various top placings in the Youngster Cup in Aachen and a victory at 1.45/1.50m level in Donaueschingen.
At the ceremony, not only owner Adolfo Juri but also Thomas Fuchs, the father of rider Martin, were involved. They received the award, which is designed by the Limburg artist Jos Dirix.