DSHS horses dominate in Dutch YH finals
19 August 2017
Five horses from the 2017-collection of the Dutch Sport Horse Sales showed their quality in the finals of the Dutch championships for young horses today. Timothy Hendrix won the national championship for 6yo horses aboard Gloed (s.Indoctro), while Pieter Keunen and Hello Blue (s.Plot Blue) were runner-up in the 5yo championship. Both top talents will be auctioned on September the 26th.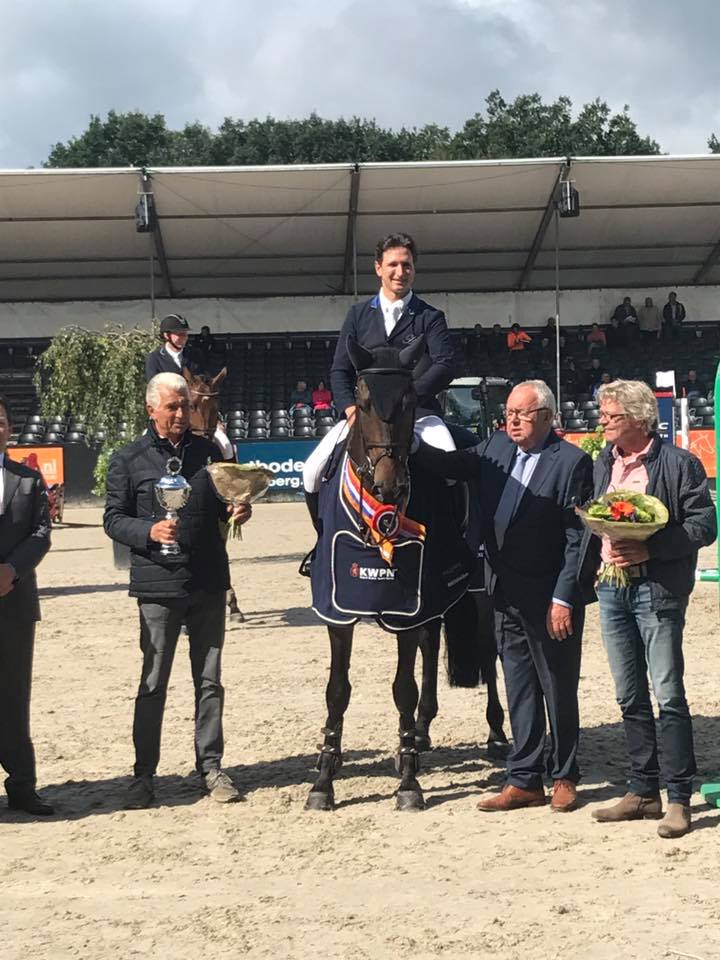 After winning the semi-finals on Thursday, Timothy Hendrix and the 6yo gelding Gloed (Indoctro x Quality) showed their quality once again on the final day of the Dutch championships for young horses. With no less than 15 other young talents in the jump-off, Timothy and Gloed jumped an unbeatable round. With his scope, great rideability and willingness to win Gloed is the new Dutch champion of the 6yo showjumpers! Also Grapje (Cardento x Goodwill), ridden by Oda Charlotte Lyngvar, has jumped amazing rounds in this championship. This careful grey mare ended up on the third place in the semi-finals, and jumped a very fine clear round in the final. They were a bit unlucky on the last fence of the jump-off, and finished this championship on the 12th place. Both Gloed and Grapje (Galway Girl) will be auctioned in the Dutch Sport Horse Sales.
Pieter Keunen was invited for the final of the 5yo championship with two young talents. Both Henkie-Penkie (Plot Blue x Orlando), owned by Stal Hendrix and Peter Franken, and homebred Harvard HX (Bustique x Calido I) are part of the DSHS collection. Clear round after clear round led Henkie-Penkie to a wonderful second place in this championship. He will be sold under the name Hello Blue on September the 26th. Also Harvard HX jumped amazing rounds in this national championship.
In the championship for 7yo the DSHS-ambassador Fascinating Fortuna (Zapatero VDL x Verdi) and Patrick Lemmen performed well. This gelding was sold in the DSHS in 2015 and ended up on the 11th place in this final. Several horses of Stal Hendrix were selected for the final of the 4yo championship, including Iris (Starpower x Larino). This very fine mare was ridden by Tim van den Oetelaar and is part of this year's DSHS collection as well.