Apart unbeatable at GCT Paris
1 July 2017
Pieter Devos and Apart were able to add another wonderful victory to their palmares yesterday. The Larino son was part of the DSHS collection in 2009. Also the striking show jumper Corragio (s.Conthargos) secured a win last week.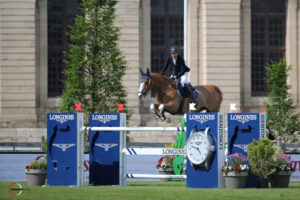 In the first competition of the Global Champions League at the GCT show in Paris yesterday, Pieter Devos and his Larino son Apart were a class of their own. They won this 1.50m class with a big advantage and added more than 20,000 euros to their record. In 2009 this special gelding was part of the collection of the Dutch Sport Horse Sales.
Corragio wins
Under the saddle of Patrick Lemmen the Conthargos-son Corragio scored the highest marks in the five-year-old class at Outdoor Geldrop and could thus emerge as a winner. For both jumping and the way of riding in the course, they received an 8. This weekend the final of the Stal Hendrix-competition will be held at De Peelbergen and Corragio has a very good starting position in here as well.