Top performances bring Apart the title DSHS Horse of the Year
26 September 2017
With such striking performances, it could not really be missed. The Larino-son Apart, bred by Stal Hendrix, who was sold through the Dutch Sport Horse Sales in 2009 is crowned DSHS Horse of the Year. Under Pieter Devos, the chestnut gelding has grown to the highest level, on which he consistently shows to be a prize winner.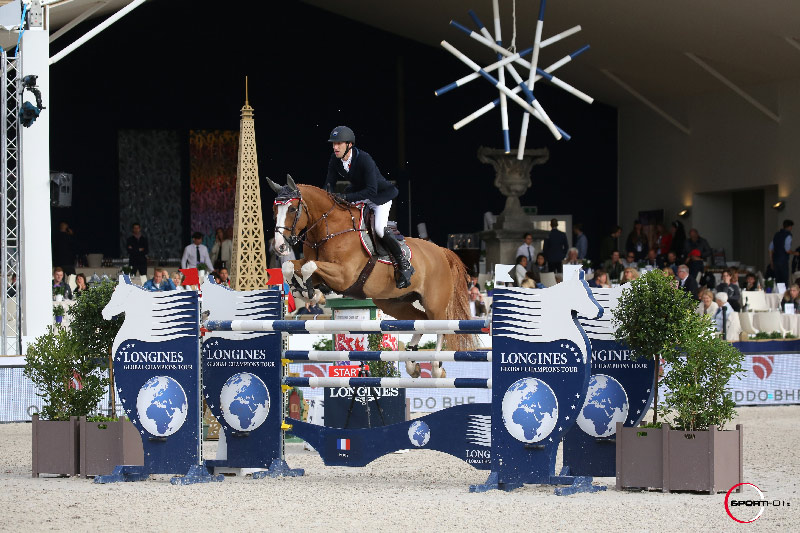 Only for true excellers, the DSHS Horse of the Year award has been established. The twelve-year-old Apart follows the highly successful DSHS ambassadors Viper Vrombautshoeve Z (s.Verdi), Constable II (s.Harley) and the Veron-offspring Dutsboy.
In 2009, Apart was sold in the auction to the Stevenson family, who have been a loyal customer of the auction for years. Later on, the Larino offspring was ridden by Caroline Poels, who successfully trained him up to 1.60m level. Her husband Pieter Devos could use a top horse like Apart, so he took over the reins in the beginning of 2016. They have already come to remarkable achievements, such as the victory in the CSI5* Grand Prix of Bordeaux, the 1.50m class of the LGCT in Paris and an 1.55m class in Paris.
During the 14th edition of the Dutch Sport Horse Sales, the Horse of the Year award has been handed out to his rider Pieter Devos and also the Stevenson family, as the buyers in the auction in 2009, were involved in the ceremony.