Isabelle Lapierre and Cescha M 2nd at GP Bromont CSI3***
6 August 2015
The Grand Prix (1.60m) in the Canadian Bromont was held last Sunday. The International Bromont will host the first leg of the Longines FEI World Cup, North American League from August 5th to 9th at the Bromont Olympic Equestrian Park.
The spectacular Grand Prix jump of had seven contestants of which the Russian rider Ljubov Kochetova and his horse Veyron was the fastest combination and won. Isabelle Lapierre was placed second with her horse Cescha M (Diamant de Semilly x Calando IV). This is a very good results as Cescha M is only eight years old.
The results as follows:
1. Liubov Kochetova – Veyron
2. Isabelle Lapierre – Cescha M – DSHS
3. Melissandre Lincourt Just Stella L
4. Mac Cone – Gasper Van Den Doorn
5. Liubov Kochetova Balou du Reventon
6. Kelley Robinson – Enzo
7. Justin Prather – Beau Soleil
8. Elizabeth Gingras – Zilversprings
9. Jaclyn Duff – Eh All or None
10. Ali Ramsay – Hermelien van de Hooghoeve
11. Susan Horn – Balintore
12. Elizabeth Gingras – Coup de Chance
Check the entire list of results here.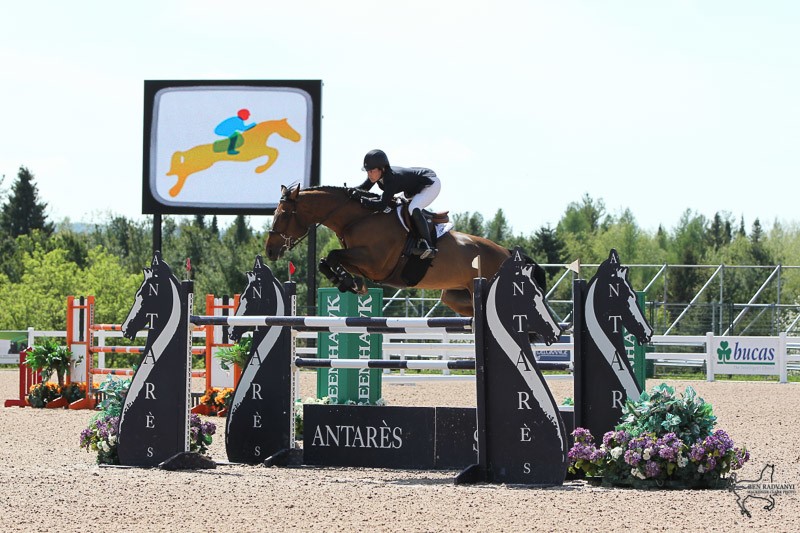 Isabelle Lapierre and Cescha M in action during the Bromont Grand Prix.