Dutch Sport Horse Sales offers champions for sale
1 September 2017
Together with Yves Houtackers, the Hendrix family puts everything on hand to create an outstanding collection for Dutch Sport Horse Sales each year. The fact that the best four-, five- and six-year-old showjumpers are offered in this auction, is apparent from the fact that two national champions and a national vice-champion are part of the 14th collection.
On Tuesday September the 26th, buyers from home and abroad can get their heart at Equestrian Center De Peelbergen. On that day, it will be possible to capture future top showjumpers. Such as the six-year-old, highly cooperative Gloed (s.Indoctro). This very complete gelding won both the semi-final and the final of the Blom Cup this year, ridden by DSHS selector Timothy Hendrix. Through a wildcard, the national champion of the four-year-olds is also included in the DSHS collection. This very careful Zirocco Blue VDL mare Idagonda stands out with her canter, rideability and ease on the jump. She scored the highest points in the Blom Cup final under Nicole Mestrom.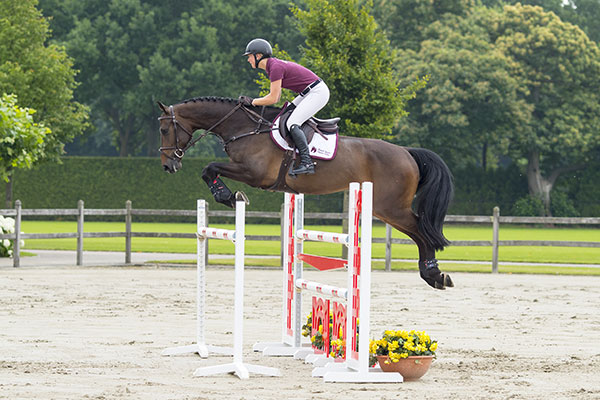 Overall quality
Also part of this extraordinary collection is the vice-champion of the five-year-old showjumpers: Hello Blue (s.Plot Blue). Ridden by Pieter Keunen he showed to be one of the best horses of his age last month. These three outliers are together with 23 other top talents, part of the collection that will be auctioned at De Peelbergen on Tuesday, September 26th. Among them are also several other Blom Cup finalists, such as Galway Girl (s.Cardento) and Harvard HX (s.Bustique).