DSHS references Iris and Ici performed well in Ciekocinko
1 September 2019
With several young talents from one of the previous DSHS auctions, the team of the Manton Grange Stables team traveled to the Baltica Tour last week. In Ciekocinko, Poland, their rider Jack O'Donohue was a class of his own with Iris and Ici. Another striking result was claimed by Coronado, who turned out to be runner-up in the 5*-1.60m class of Gijon.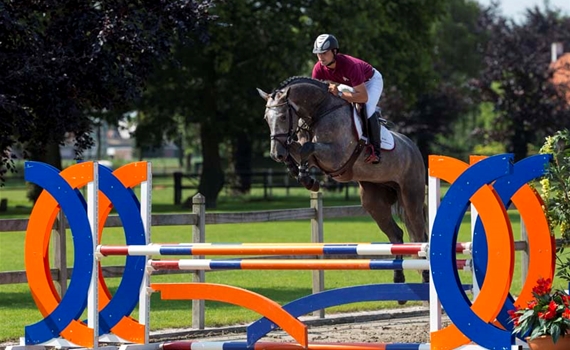 Francisco Pasquel thus delivered an absolute top performance with the Cassini I son Coronado (formerly Charlie Gray, ds.Acord II, pictured), which was sold at the Dutch Sport Horse Sales in 2013. The now ten-year-old Holsteiner gelding was with his Mexican rider one of the three pairs who could remain completely clear in both the first course and the jump-off of the 1.60m class of CSIO5* Gijon. They did it in the second fastest time, chapeau!
Prize winners
The final of the Youngster Tour for six-year-olds was won by Jack O'Donohue with the in 2017 auctioned Iris (Starpower x Larino), which he took over from Tom Slattery last June. In a very fast time, the successful pair remained clear in both phases, allowing them to receive the first prize. With last year's auctioned Ici (Douglas x Lux), Jack O'Donohue also jumped an excellent round and therefore the Manton Grange Stables could also take the second prize home. Moreover, with the Bustique son Harvard HX (ds.Calido I), auctioned in 2017, Jack was in fourth position after a double clear round in the 1.35m class.
Victory for Constable II
Another six-year DSHS reference jumped into the spotlight in Germany's Lastrup. Under Patrick Lemmen, Inostello M (Numero Uno x Voltaire) reached the third place in the 2*-1.30m class. Of course, the beautiful victory of Laura Kraut with Constable II should not remain unmentioned. With this Harley VDL son (ds.Lupicor), which was sold in 2012 via the Dutch Sport Horse Sales, the American top rider won the 1.45m speed class at CSI5* Brussels Stephex Masters.