DSHS ambassador Apart contributed to NC victory in Sopot
17 June 2019
No better reference than a winning reference! The DSHS Horse of the Year 2017, Apart, achieved an excellent result with Pieter Devos this weekend. Their two clear rounds in the Nations Cup competition of Sopot contributed to the victory for Belgium. DSHS references Zira van de Kapelhof and Larca van Erpekom also took the limelight this weekend.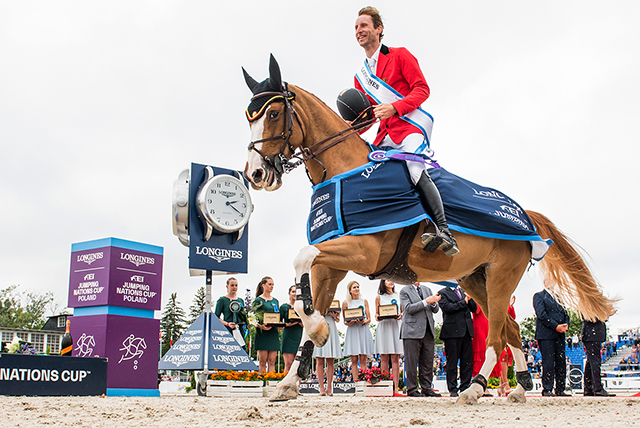 Pieter Devos has built up an impressive record with Apart (s.Larino). He has been a combination with this by Stal Hendrix bred gelding for more than three years. "Apart is really a dream horse. My wife Caroline trained him up to five-star level, after which I took over the reins. His attitude is fantastic, he's really a horse you can count on", Pieter told Equnews after the victory in Sopot. The Belgian team was able to win the Nations Cup there for the second year in a row, and Pieter and Apart were one of the two Belgian pairs who managed to remain completely clear in both rounds. "Apart is really a very fast horse and, as usual, I could count on him for 100 percent."
Prize winners
Another DSHS reference performed on 1.60m level at CSI4* in Bolesworth. The Zurich mare Zira van de Kapelhof and Anthony Condon jumped to the eighth place in the Grand Prix. Zira was part of the Dutch Sport Horse Sales collection in 2013 and was bred by Gert Nicolai. Several DSHS horses won prizes at the two-star competition in Kronenberg. Alise Oken's double clear result in the 1.45m class with Shangri-La (ex.Galway Girl, s.Cardento) resulted in the third place and Andre Sakakini with Bestinov VL (s.Ustinov) were runner-up in the 1.40m speed class. Under Jack O'Donohue, Larca van Erpecom (s.Kasmir van 't Schuttershof) showed her skills by jumping double clear and end up second in the 1.45m class at De Peelbergen.
Photo Apart – FEI