Another WC victory for Cescha M
29 October 2017
What a weekend for the DSHS superstars! The 10yo Cescha M and Isabelle Lapierre won the World Cup of Calgary, Pieter Devos and Apart ended up third in the World Cup of Verona and Clear Water was placed for the jump-off of the World Cup in Washington.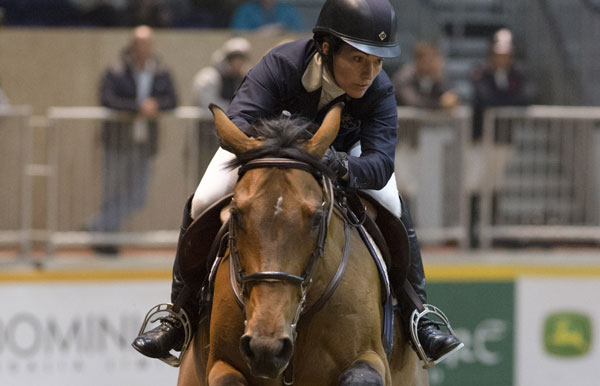 Canada's Isabelle Lapierre became the first rider to win multiple events on the Longines FEI World Cup North American league this year when she rode Cescha M (Diamant de Semilly x Calando IV) to her second victory of the season in Calgary. Earlier this season she was victorious in Bromont with her 10yo mare, who was part of the DSHS collection in 2011. "This was her second show indoors. She's very green, and we didn't know what to expect, but Cescha M always tries to win. She's always good when she needs to be. She just likes to win." Lapierre and Cescha M won the season opener of the league in August, in what was the mare's World Cup qualifier debut. Lapierre has her sights set on the final, which will take place in Paris in april 2018. "Paris is still a long way off, so we'll keep her sound and fresh, and maybe we're going to fly over the ocean!", she said.
Two more World Cup horses
On top of a great season, Belgian rider Pieter Devos and Apart (Larino x Burggraaf) were a class of their own in the World Cup of Verona. They were only a bit slower than winner Maikel van der Vleuten/Verdi, and finished clear in the third time. It's a wonderful addition to the already impressive record of this DSHS ambassador, who was auctioned in 2009. Another DSHS reference jumped into the jump-off of the World Cup of Washington: the in 2011 auctioned Clear Water (s.Clearway), ridden by Marilyn Little. They ended up on the eleventh place.
Top-ten Grand Prix
Also the 8yo Zürich-mare Zira van het Kapelhof Z has performed well this weekend. She was sold through the Dutch Sport Horse Sales in 2013 and is now successfully ridden by Anthony Condon. In the 1.45m Grand Prix of Opglabbeek, they were double clear and finished in the eight time.